Budget tours to North Korea
Budget tours to North Korea
Our budget tours 2019 | Train to North Korea | How to get to and out of Dandong
You can travel to North Korea in one of our budget tours which offer an economical way to visit the DPRK starting from 878 Euro per person. The budget tours differ from our classic tours only in hotel and transport to/from Korea, itinerary in the DPRK is similar for classic and budget tours. Our budget tours offer economy class hotels in Pyongyang, and a train Dandong (China)-Pyongyang (North Korea) -Dandong. For more details how to get to North Korea please refer here
Our budget tours 2019
In 2019 we run the following budget tours:
Take a train to North Korea
One of the unique features of our budget tours is that you will travel by train to and from North Korea on the international train Dandong-Pyongyang-Dandong. Taking the train is a special experience. It will give you an opportunity to mingle and chat to North Koreans. Koreans are very friendly and hospitable and usually happy to share a drink or two with foreign tourists. Each traveller is given a comfy berth to sleep on within a shared compartment of six beds (hard-sleeper). Hot water for tea or noodles is usually available on the carriage. Toilets are maintained in reasonable conditions and are regularly cleaned by the train attendants.
The train departs from Chinese city Dandong at 09.30am and arrives in Pyongyang at 5.15pm on the same day. From Pyongyang the train departs at 10.10am and arrives to Dandong at 5.30pm.
How to get to and out of Dandong (China)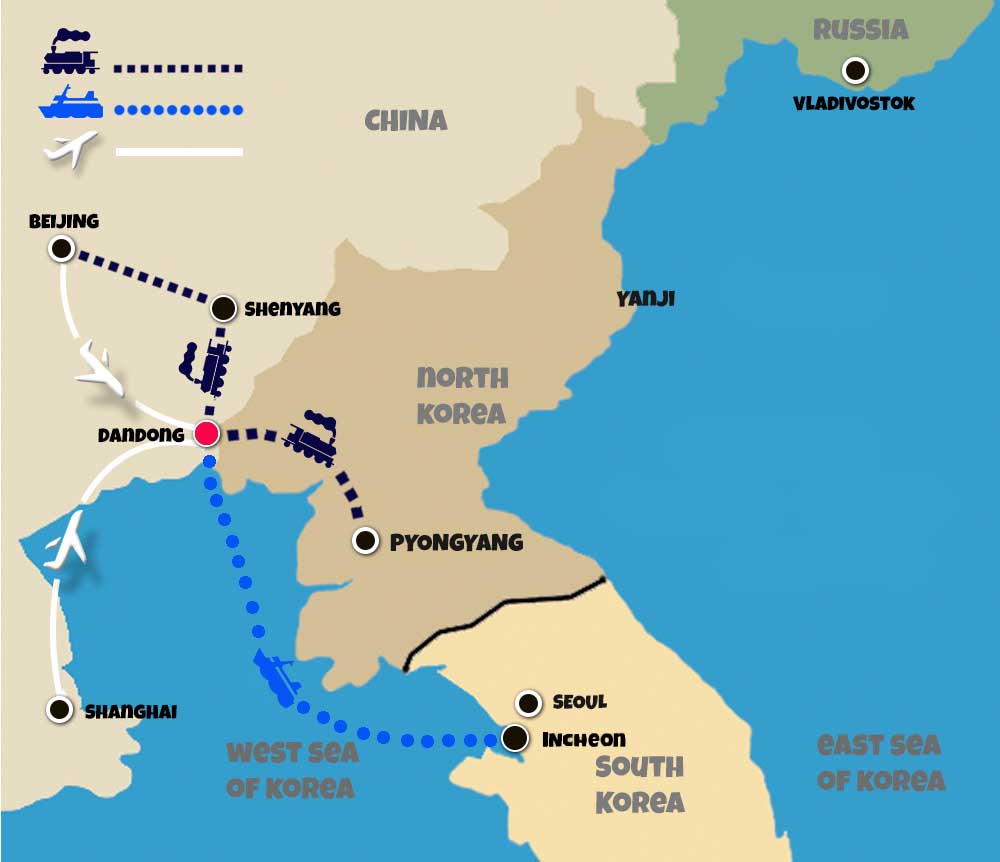 Your budget tour will start end finish in Dandong, China. It is the largest Chinese border city, facing Sinuiju, North Korea across the Yalu River, which demarcates the Sino-North Korean border. To the southwest of the city, the river flows into Korea Bay. Travelers come to Dandong for its vicinity to the North Korean border. Dandong is North Korea's gateway to the world - a place where the long alliance between China and Korea takes physical form.
By plane: A small airport (IATA: DDG) is located just outside Dandong. Daily flights are available from Beijing, with several flights a week from Shanghai, Shenzhen and Qingdao.
By train: There are several direct daily trains (both high speed "G" and regular "K") from Beijing. In September 2015 a new high speed train route was opened between Shenyang and Dandong.
By bus: There is a long-distance bus station which is conveniently located near the Dandong train station. The bus service is available:
Dandong-Beijing: takes about 10 hours
Dandong-Shenyang: takes about 3 hours
Dandong-Dalian: takes about 4 hours
Dandong-Tonghua: takes about 5 hours
By boat: A ferry between Dandong and Incheon port (South Korea) leaves Incheon's Ferry Terminal No. 1 at 5 pm on Monday, Wednesday, and Friday and leaves Dandong at 3 pm on Tuesday, Thursday, and Saturday. The passage takes 15 hours